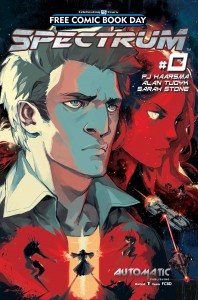 We are excited to announce that the Spectrum comic book will launch on Free Comic Book Day, May 7th 2016 with a four-issue miniseries!
The comics are co-written and produced by the team behind Con Man – PJ Haarsma, Alan Tudyk, and Nathan Fillion. They brought on the talented Sarah Stone to illustrate the series and comics veteran Shannon Eric Denton on board as editor. The series will be published by the LA-based Automatic Publishing.
The 4 issue series will tell the story of a vicious attack from an alien invading force devastates the globe, but the prophetic dreams of Captain James Raaker (Fillion) warn that the suffering has just started. Humanity's last hope is escape in an untested spaceship built by a madman."
The "Spectrum" debut issue #0 will be available for free at participating retailers on the next Free Comic Book Day, which takes place May 7, 2016. Make sure your local comic store has a copy for you!
Stay up to date on all things regarding the Spectrum comic book on the Con Man website here.
Contact Your Local Comic Book Store
To make sure you get your free copy of Spectrum Issue #0 on May 7th let your local comic book store know to reserve it using code JAN160018!
Find Comic Book Store Nearest You
Special thanks to: